No Sales Tax on Food!
Last edited: October 8, 2008
Rising food and gas prices are affecting us all.
While most Americans pay no state sales tax on groceries, Kansans are paying more than people in other states. We apply our full sales tax to food. Kansas has one of the highest tax rates on food in the nation.
Only 14 states charge sales tax on food, and most of those charge a lesser rate than the regular sales tax. Kansas, however, charges 5.3 percent tax at the state level. Some counties and cities also charge sales tax on food, raising that percentage to over 7 percent.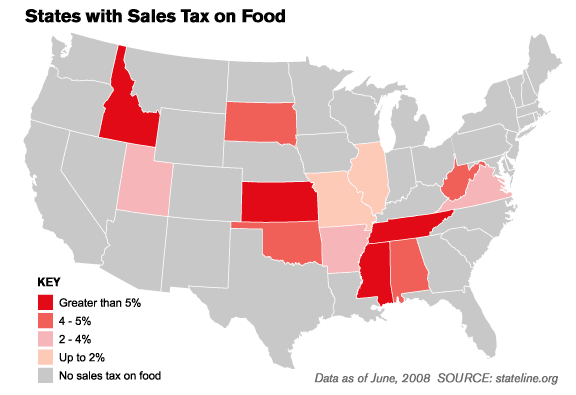 Taxing food is a bad idea.
It's a regressive tax. As a percentage of income, lower-income families pay much more than upper-income families.
It's anti-family. Households with several dependents are taxed more heavily as a percentage of household income than those without dependents.
As times get more tough financially, we feel like we're being squeezed. We're looking for places where we can scale back our expenses. There are people in Olathe who are having to make the terrible choice between buying gas to get to work and buying food at the store. Kansas does offer a tax credit to lower-income people, but few people take advantage of this. You shouldn't have to file paperwork to eat.
How will we pay for it?
This plan will be implemented over the course of five years by progressively dropping the statewide tax on groceries. We will pay for this by closing tax loopholes to service industries that were originally put in place to allow those industries to grow at a faster rate. Lobbyists have allowed these loopholes to continue, and as a candidate financed without special interests I can work to end these loopholes in our tax code.
Join me in my fight to end the Kansas Sales Tax on Food.
I want to know your thoughts on this. Together we can make this happen.
Commenting is not available in this channel entry.